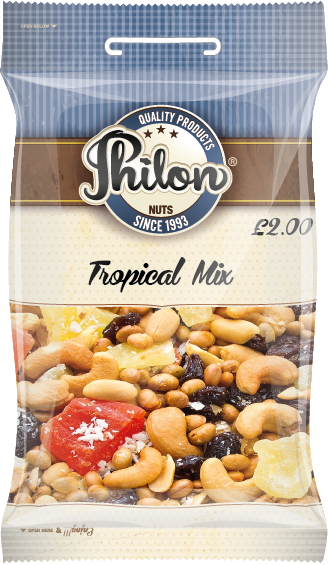 Philon Tropical Mix
:

Packets are an estimate 70g, weights may vary
Indulge in the delightful flavours of Philon Nuts' own brand of Tropical Mix. This vegan-friendly snack is a mouthwatering blend of soft, juicy dried fruits and a variety of nuts. With the natural sweetness of raisins, pineapple, apricots, cantaloupe, sultanas, and banana, combined with the satisfying crunch of nuts, this mix is a true tropical treat. Packed with fibre, it not only satisfies your cravings but also provides a nutritious snacking option. Enjoy the convenience of having a delicious and wholesome snack on hand whenever you need a boost of energy or a moment of indulgence. Whether you're on the go or simply looking for a delightful break, our Tropical Mix is the perfect choice. Experience the natural goodness and vibrant flavours of this vegan snack today.
Ingredients: Almonds, Apricots - Apricots, Preservative (Sulphur Dioxide), Banana Chips, Coconut oil, Refined Cane Sugar, Banana Flavour, Brazil Nuts, Cashew Nuts, Papaya, Sugar, Preservative (Sulphur Dioxide), Pineapple -, Jumbo Flame Raisins, Sunflower Oil, Sultanas, Cantaloupe, Sugar, Citric Acid, Preservative (Sulphur Dioxide), Cantaloupe Flavour, Mango, Sugar, Preservative (Sulphur Dioxide) Packets are an estimate 150g, weights may vary.
Allergy Advice: For allergens, see ingredients in bold. We pack all types of products in our factory, including all types of Nut products. Do not eat this product if you are allergic to nuts.
DELIVERY INFO Free delivery for orders over 20 items! We do accept returns if the product is in its original packaging. For full details see our Terms and Conditions page.